Kalinjar Fort Travel Guide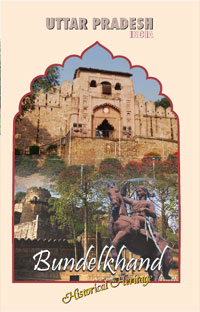 Tourist Guide of Kalinjar Fort
280 km. from Jhansi, the Kalinjar town and the Fort, which have had strategic importance since the earliest of times, are located in the ancient land of Jejakbhukti which was an integral part of Bundelkhand. The Fort, a stronghold of the Chandelas from the 9th to the 15th century, remained an invincible, prized for its location, right upto the time of the Mughals.
During its eventful career, the Fort was subject to numerous wars. Mohammed Ghazni, Qutb-ud-din Aibak and Humayun, all invaded this stronghold of the Chandelas. It was Akbar who finally conquered it in 1569 and bequeathed it as a gift to Birbal, one of his "nine jewels". From Birbal it went to Chhatrasal, the legendary Bundela warrior and then to Hardev Shah of Panna.
In 1812 it fell into the hands of the British. This Fort with its romantic and extraordinary history is an excellent destination to visit, The township of Kalinjar was once enclosed with in a high rampart wall with four gateways, only three of which exist today. These are popularly known as the Kamta Dwar, Panna Dwar and Rewa Dwar.
How to get there:
Air: Nearest airport are Khajuraho (M.P.) – 130 km. and Allahabad (Bamrauli) – 210 km.
Rail: The nearest railway station are Atarra – 38 km. and Banda – 56 km.
Road: Kalinjar is linked by road to the important centers.
What to see:
Kalinjar Fort:
Situated on a high hillock in the Vindhyan ranges, the fort was approached through seven gates or check posts before entering the main fort area. These splendid gateways are the Alam Darwaza or Almgir Darwaza, Ganesh
Dwar, Chandi or Chauburji Darwaza, Budha Bhadra Drwaza, Hanuman Dwar, Lal Darwaza and Bara Darwaza. Within the fort are the remains of two palaces, the Raja Mahal and the Rani Mahal.
Among places of interest witn in the main fort area are Sita Sej, a small cave containing stone bed and pillow for use of hermits; Ptal Ganga the reservoir cut in rock; Pandu-Kund, where water trickles from the horizontal rock strata's crevices; Bhairon-ki-Jharia, with the colossal figur of Bhairon carved on the rock face – more popularly known as Manduk Bhairav and Mrigdhara or 'antelope's Spring' a small pool in the inner chamber of the rampart, where mriga figures can be seen under trickling water. Koti Tirth and the Budha-Budhai Taal – said to possess great healing powers, are among the important pilgrim centers at Kalinjar. Other places of interest are the Nilkanth Temple built by Chandela ruler Parmardideva with the rock-cut Swarga Rohan Kund, where in a niche stands the colossal 18 armed, 17 feet broad and 24 feet high figure of Kal-Bhairav, omamented with a garlend of skulls. The Vankhandeshwar Mahadev Temple located at the source of the Shivasari Ganga is also well worth a visit.
Numerous fine pieces of sculptures, spread all over the front area, can be seen here.
Available Tours packages of U.P. Tourism, Govt of Uttar Pradesh
Awadh Bundelkhand Tour (Lucknow – Chitrakoot – Kalinjar – Lucknow), 2 Nights & 3 Days

Sangam Bundelkhand Tour (Allahabad-Chitrakoot-Kalinjar), 1 Nights & 2 Days

for Booking Call: 18601801364 (7:00 A.M. to 11:00 P.M.)
Website: http://uptourism.gov.in
CLICK Here for Kalinjar Fort Map
Courtesy: Uttar Pradesh Tourism